In BE Networks we are determined to make this world a better place for everyone.

Our whole business model is built around the protection of our planet but we do not stop there; we actively contribute, support and promote organizations that help our fellow men in need
Our favorite one is IT4kids and we are very proud to stand by such an inspiring idea. Below you can find more about their mission and vision behind and how everyone can contribute in our cause.
The IT4Kids Foundation is committed to children. In Netherlands, more than 423.000 children grow up in a family that has to cope only with a minimum wage. That's as many as 1 out of 8 children around the country and even 1 out of 4 in the cities. Many of these children will never get the opportunity to take part in some kind of sports.
IT4Kids believes that every child should be able to participate!
Skills and values such as respect, resilience, teamworking and dealing with defeat are learnt by participating in sports. These #skills4life are so important in every stage of our lives.
IT4Kids collects used and depreciated hardware and on behalf of the supporters and donates its value to projects of charities that work with children. Together we create sustainable sports opportunities, so that the children can develop #skills4life.
Mission IT4Kids
Every child should be able to participate in sports and games. Sports are a way to unwind. Sports are fun and sports are extremely beneficial to a child's development. By doing sports with peers you build #skills4life, like discipline, cooperation, self-confidence, respect and mental resilience.
Vision IT4Kids
In 2030, we want all children who cannot play sports (due to physical or financial reasons) to have the opportunity to participate in sports.
How does donating hardware work?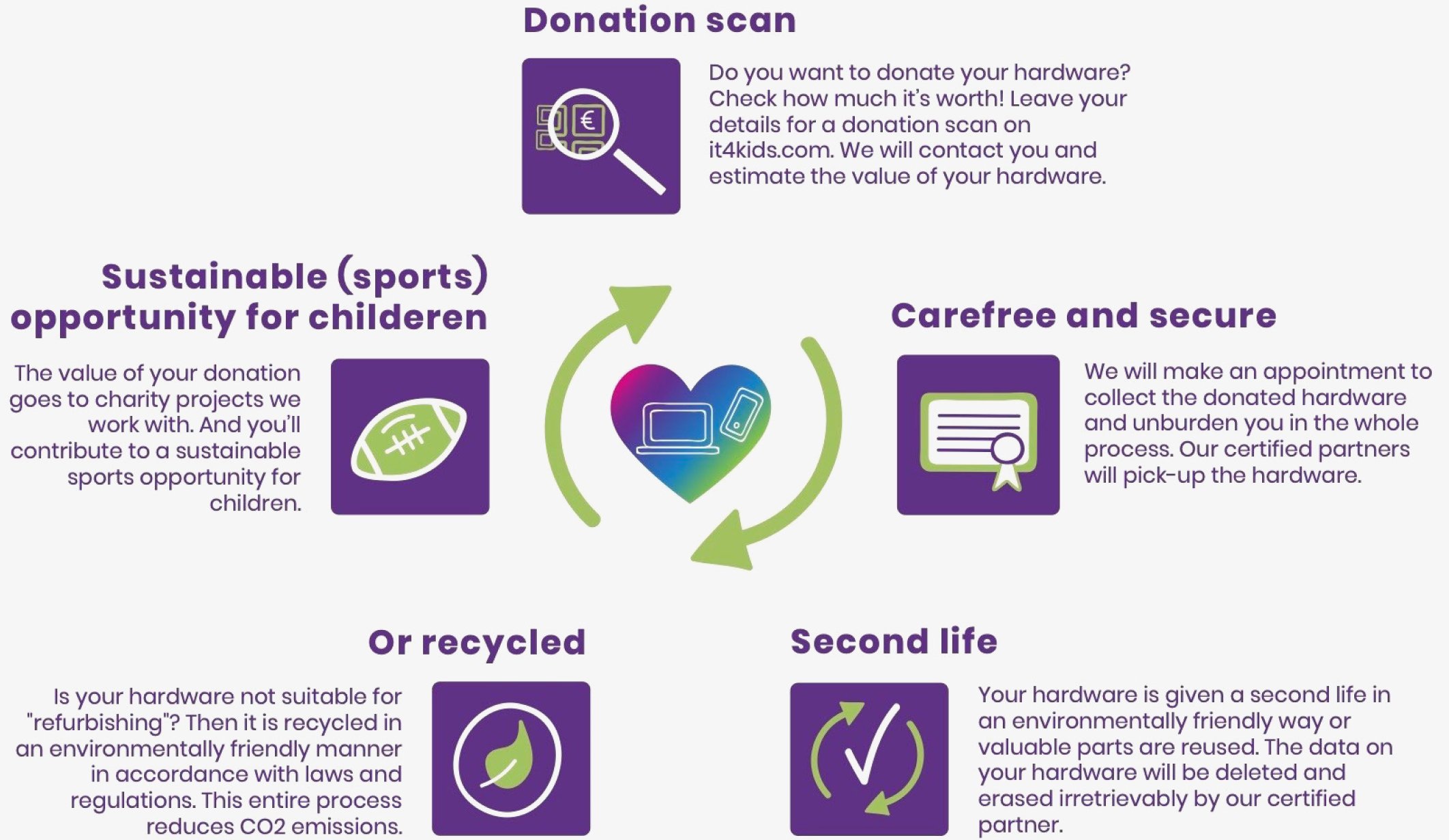 Many companies donate their used hardware to us.
The value is donated by IT4Kids to the projects of
charities which IT4Kids works together with.
You can also donate a part to another good cause.
Donating hardware doesn't cost you anything and it helps us tremendously.
Please have a look at the IT4Kids website and reach out to us for more information.