When companies are asked about price strategy, a majority is able to explain perfectly fine why specific rates are set. Different strategies for different products or services have been introduced over the years and proven to be successful or not in specific contexts and markets. Mostly the age of a product (or company) and the extent of relevant competition is decisive for which path to choose. For a buying customer it is very important to recognise which strategy a supplier is using and what this implies for future purchases.
In the scope of marketing (high-end) technology equipment, many people familiar with the business can relate to a rather high level of pricing. It's not about production cost only. There is research and development, environmental contribution, sustainability, compatibility & interoperability and marketing strategy involved, but above all there is the indispensible obligation to deliver an impeccable after-sales service.
Looking into the rémarketing of said equipment, perspectives change. And to be fairly honest, they change rightly so. After all, there is no more R&D involved, the product is finished and in many cases proven to be working already, the interoperability is inherent to the product itself and the market position is maintained by the manufacturer. So price should be king, right?
Price is -and always will be- the number one reason for people to source from the circular economy, so yes: price is king! Nevertheless it is important to recognise market penetration strategies and economy pricing from long term strategic based product rates.
The biggest strength of a successful supplier of refurbished equipment, is creating a fine balance between buying price from initial owners and selling price to end users. Squeezing out selling customers will destroy the equilibrium and preclude independent distributors from building a solid base of input, which is necessary to maintain an effective supply chain and decent warranty system.
Electrostatic discharge (ESD)
Where R&D is a significant part of price setting for new products, state of the art refurbishing of electronic equipment takes specialised handling (& testing) processes. There is a constant need for upgrades and investments, keeping test labs compatible with the market availability of products.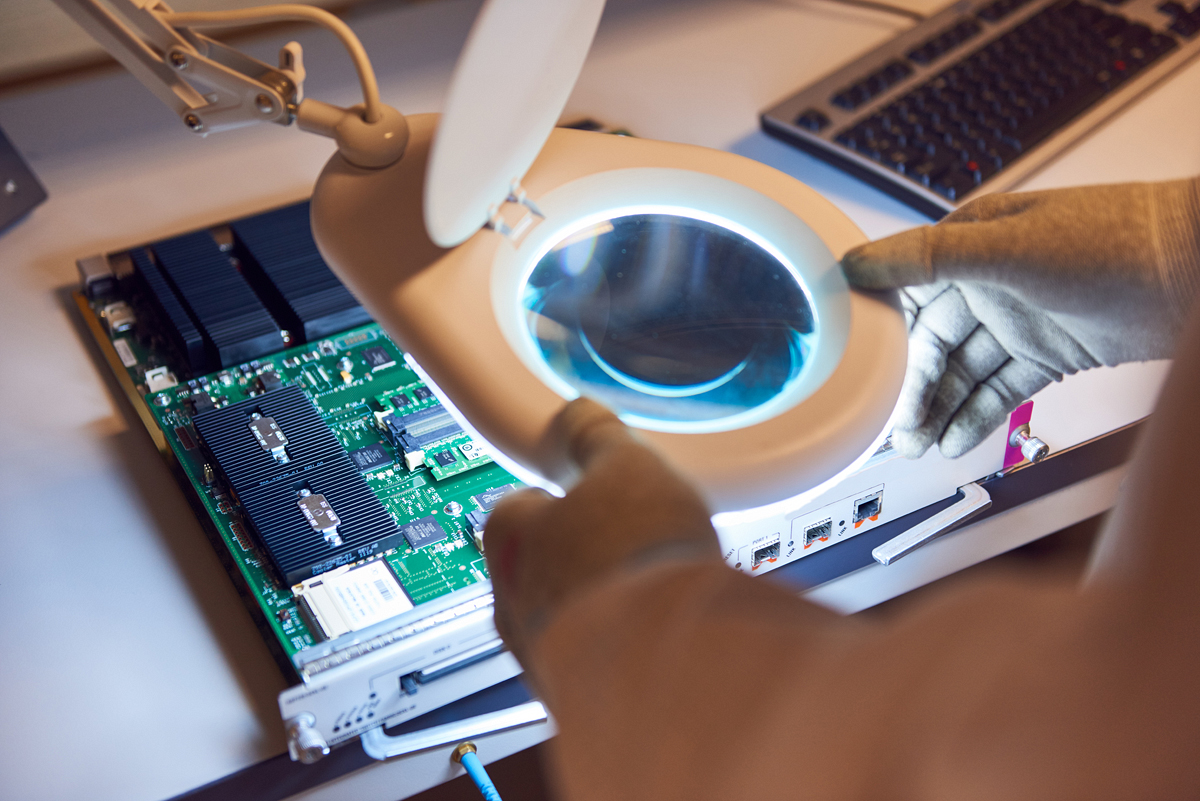 Reducing their business model to basic box-moving, individual brokers are able to go deep in price, but RMA rates will be inversely proportional. A single electrostatic discharge from a person's body for example, may induce irrevocable damage to an electronic product while packing. This damage can be fatal or microscopical, not harming the general functioning of the regarding device, but significantly reducing its lifetime, which is even worse in some cases.
The cheapest price vs. the best price
When there is a recurring need for parts, the customer-supplier relationship should always be one of trust and trust is to be earned. Full transparency on margin or price is tricky, but full transparency on price strategy is not. Even though a good buyer will recognise a bargain when he sees one, it is advisable to be critical towards dumping rates. In the circular economy of network- and datacenter equipment it's all about availability and when there's a significantly newer technology available, there will be price drops to only a fraction of list price on 'outdated' devices. Still, there should be a cost involved to assure good working condition and replacement warranty.
From supplier's perspective, "Is this your best price?", indicates the prospect or customer does not consider you a trusted partner yet and there's probably some lack of information regarding the added value of your offer. A fair price may or may not be negotiable, but a customer's request for assistance to win a deal or to match a set budget, is what will lead towards the best solution more effectively than just to demand a lower price.
"Is this my best price?" It probably is, following our sales- and business strategy. "Can we talk about price?" I would be more than happy to. The more I know about the context of your enquiry, the more leverage I have for the indirect stakeholders to match your financial needs ánd to keep the previously mentioned balance intact.